ImageCycler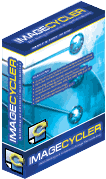 ImageCycler is a slide show program that cycles through and displays photos in a designated folder.
ImageCycler is not just another slide show program. It has a lot of features that other slide show programs do not have:
You can run multiple instances of ImageCycler at the same time.
ImageCycler's window is resizable when the program is running. Your photos will be stretched proportionally to fit to the size of the resized window.
When ImageCycler is running in Full Screen mode, your photos are stretched proportionally to cover the whole screen of your monitor.
Right click on any folders in Windows Explorer to launch ImageCycler.
Refresh rate and background color of the slide show is adjustable. ImageCycler remembers all the settings the next time you run it.
Support various image file formats: BMP, DIB, EMF, GIF, ICO, JPG, and WMF.
ImageCycler's installation file (only 1.6 MB) can be downloaded from our
ImageCycler Download page
. ImageCycler runs on Windows 95, Windows 98, ME, NT 4.0, 2000, and XP. For detailed instructions on how to install and run ImageCycler, please click on the
ImageCycler User's Guide
link.
The unregistered version of ImageCycler allows you to play 20 slide shows. If you would like to purchase a license after trying it, you can make your purchase by clicking on the
ImageCycler Buy Now
link. A single-user license entitles you to unlimited e-mail technical support from us.
Do not forget to read
testimonials
from our customers who used the product before.