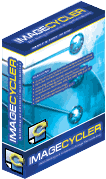 Buy ImageCycler
The use of this software is subject to the terms of the
license agreement
. Please be assured that ImageCycler does not contain any adware, spyware, or malware. Installing ImageCycler on your computer will not affect its performance in any way.
| | |
| --- | --- |
| Product Name: | ImageCycler |
| Version: | 2.0 |
| Price: | US$15.00 |
Please note that this product is available for download only. No physical installation CD will be mailed to you. Please input your quantity and click on the "Buy Now" button to make your purchase.
After your payment has been processed successfully, you will receive a confirmation email from Ivertech, which contains your license information (user name and user key). If you do not receive any emails from Ivertech within 10 minutes after your purchase, please check your spam mail or bulk mail folder. If you cannot find the confirmation emails there, please write to us at

and let us know that you have not received your license. To prevent our confirmation email from going straight to your junk mail folder, please add our email address

to your trusted contact list.

Our product is 100% satisfaction guaranteed. If for any reason you are not happy with the product, you can get a full refund if you cancel your order within 8 weeks after your purchase.
If you have not downloaded ImageCycler's installation file, please download it by clicking on the ImageCycler Download link. When you first run the program, it will prompt you for the User Name and User Key that you purchase here. Once the User Name and User Key are entered, your 20 trials limit will be lifted. Please provide a valid e-mail address during check-out as the User Name and User Key will be e-mailed to you once your purchase is completed.
The license is issued on a per-computer basis. If you need to install QuickResizer on two different computers, you will need to purchase two licenses. You can use the User Name and User Key only once. The User Name and User Key cannot be re-used after you have registered with us. Please do not share them with others. Make sure that you are connected to the Internet when you register.