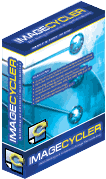 ImageCycler Download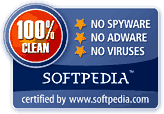 ImageCycler has been awarded
"100% CLEAN" Award
by Softpedia.
Softpedia guarantees that ImageCycler is 100% CLEAN, which means it does not contain any form of malware (spyware, viruses, trojans, backdoors, etc).
This software product was tested thoroughly and was found absolutely clean, therefore it can be installed with no concern by any computer user.
Installation Instructions:
Download the installation file to your computer and double-click on it. Follow the instructions on the screen and accept all default settings to complete the installation.
Once the installation process is completed, ImageCycler will automatically be launched. If ImageCycler is not launched automatically, you can launch the program by clicking Start, Programs, ImageCycler, ImageCycler. Or you can launch the program by double-clicking on the ImageCycler icon on your desktop (if you choose to add the shortcut during installation).
If you would like to purchase a license after trying the evaluation version of ImageCycler, you can click on the Buy Now link to obtain the User Name and User Key that would unlock the 20 trials limitation.
The use of this software is subject to the terms of the license agreement. Please be assured that ImageCycler does not contain any adware, spyware, or malware.